Gerber Bear Grylls Scout Pocket Knife REVIEW
"A True Boy Scout's Knife…" 
---
This post contains affiliate links, meaning, at no additional cost to you, I will earn compensation if you click through and make a purchase. Thank you! -Koda Moon
---
It seems like only yesterday I was racing my homemade  BOX  DERBY  CAR  in boyscouts… Ahh, good times. 
Besides racing pinewood derby cars, we hiked mountains, crossed streams, foraged for food, and often went camping deep in the woods.
As you can imagine, owning a pocket knife made treks into the deep dark woods much more fun.
Looking back at it now, I'm so happy I was into pocket knives as a kid… 
I was 100% a nature boy, and knives served me well... I used them for pretty much everything. Personally, I think most boys should own a pocket knife.
Not only does it teach the importance of taking care of your possessions, but it also teaches responsibility, safety and general usefulness.
With that, I'm proud to introduce to you my latest knife review: The Gerber Scout Knife! 
  SUMMARY 
The Gerber Scout Knife is a pretty simple knife. Reliable, yet simple…
There are no fancy bells and whistles, which makes it ideal for a small outdoors folding knife.
  WHO IT'S FOR?
The Scout Knife is suitable for anyone looking for a simple outdoor folding knife.
If you're a knife head that likes drop point blades, serrations, textured rubber grips and thumbstuds, this knife could be a good fit for you.
  VERDICT 
It's funny, when I first got this knife, I assumed it was going to be a piece of junk…
I thought it would be this mass-produced piece of crap that Bear Grylls slapped his name onto, and therefore it would sell well.
As it turns out, I was completely wrong. Gerber did an excellent job with this knife. I was very pleasantly surprised.
Today, I hold the opinion that the Bear Grylls Scout knife is an excellent folder considering its low price.
The blade opens with authority, the lock back is simple yet strong, and the handle is lightweight, durable, slip resistant and even stylish…
This knife is small enough to not be an inconvenience, big enough to be taken seriously and durable enough for the elements.
In my book, the Scout knife is a winner. It's not perfect, but it's reliable and it'll get the job done.
1st IMPRESSION 
I'm not gonna lie, I thought this was one funky looking knife the first time I laid my eyeballs on it.
Like, orange is kind of a weird color right!?? …Unlike my girlfriend, I'm not a big fan of orange, so it took me a little while to warm up to this color scheme.
As for the physical, this knife was very natural in my hand when I first picked it up. I immediately became comfortable with that aspect of it.
SPECS
🗡  
BLADE
The Scout sports a tall drop point blade with a partially serrated edged.
I'm going to be blunt… the blade on this knife is nothing special. It's not terrible, it's not good. It is perfectly average.
It's average at slicing, average at holding an edge, and average at overall performance. That being said, this blade does have some redeeming qualities…
For one, this blade steel is of the  softer variety… This means it won't stay sharp very long, but it will be extremely easy to sharpen.
Ease of sharpening makes this a great beginners pocket knife.
Another great quality of this blade I've realized it has is it's resistance to corrosion…
  HANDLE
In a lineup of knives, the handle of the Scout Knife would definitely gonna stand out.
It's bright orange and gray, and on top of that it's rather textured. 
There's a lot to like about this handle. First off, it's featherweight…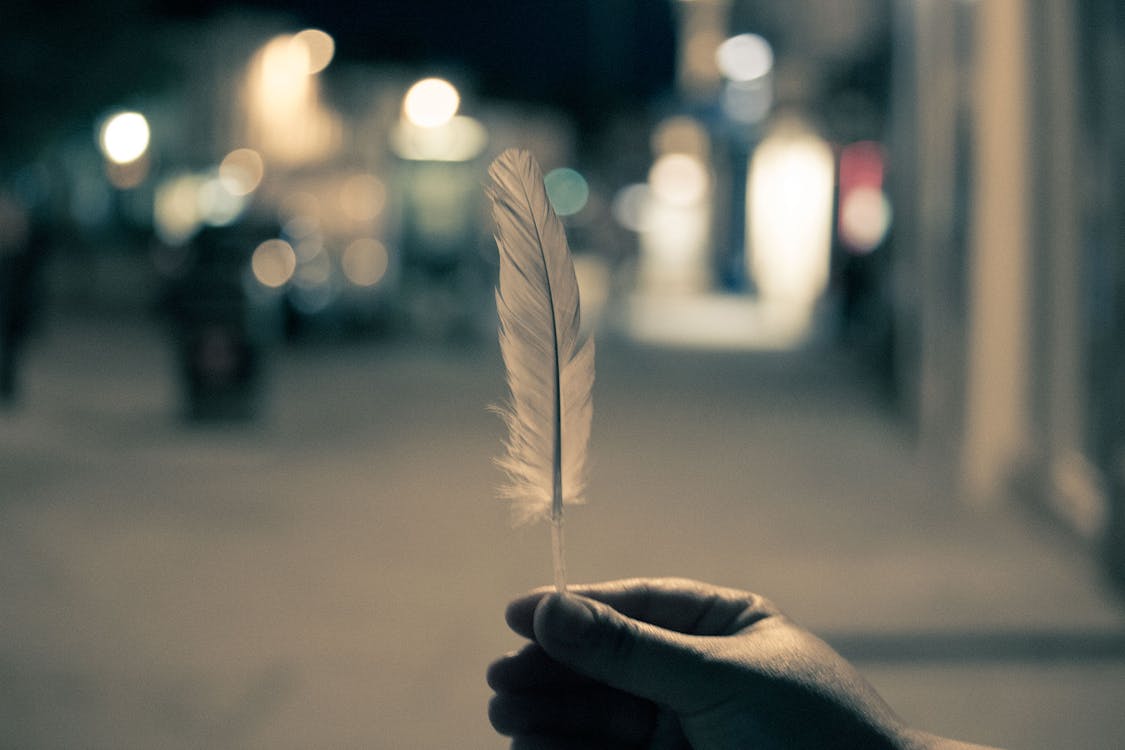 You're gonna quickly find out but most of this knife's weight is in the handle. At least, that's how it feels.
Despite being this lightweight however, the handle is beyond a shadow of a doubt exceptionally tough.
The blade does have a little bit of side to side blade play, particularly if I test it with a good amount of force.
The play is minor, and therefore not a big deal, but there is the slightest amount.
My general rule of thumb is that a little side to side play (or wiggle) is okay. You're fine as long as there's no vertical play.
The fit and finish of the handle aren't perfect, but they're right around the level of quality I would expect for this price point, which isn't bad.
 

 POCKET CLIP
I actually REALLY love this pocket clip. It's unlike a lot of my other clips…
Most of my clips are strong, but they're also rigidly tight. Because of this, they can snag on your pockets and quickly become a source of annoyance.
This pocket clip, however, is sooooooo good when it slides in and out of your pockets.
It's strong and durable, yet simultaneously it's also soft and forgiving. In other words, it's the best of both worlds.
DEPLOYMENT
I just want to be clear about something right from the get-go. I'm not going to hold any punches… This blade deploys pretty slowly.
Guys, this is an outdoor survival folding knife… Blade opening speed is literally the last thing a knife like this is concerned with.
When it comes to Nature, factors like speed and flash become insignificant.
Instead, things like reliability and durability suddenly become of paramount importance.
That's why knives like my Schrade SCHA7 have such a powerful spring. They're tactical knives that need the ability to deploy quickly in an emergency.
Don't let lack of speed discourage you and cause you to count this knife out just yet. This deployment might not have speed, but it's still no-nonsense.
It's common knowledge that knives with fancier, flashier deployment mechanism are more prone to breaking.
In comparison, the Scout Knife uses minimal parts and therefor is more reliable long term.
ERGONOMICS  
The ergonomics of this knife is simply another area in which the Scout has excelled.
Speaking of size, the handle isn't too thick or too thin. On a scale it falls right into that's sweet goldilocks zone smack dab in the middle.
Gerber, fortunately, had enough sense to make this handle more, well, hand-friendly.
In hand, you get a nice marshmallow feeling. By that, I mean that the inlay material is a rubber-like and therefore soft.
Don't get me wrong, it's not too soft, rather, it's just soft enough to be forgiving towards your hand.
One minor complaint I have (which is a complaint I often have) is that the handle length is NEAR-perfect for me…
You see, I was born with fat sausage fingers attached to a big ol hand. I wear XL gloves…
Unfortunately this handle is JUST shy of being long enough for me, but that just means it will probably be 100% size for the average population. Damn you, genetics!!
LOCK  
The Scout knife uses a simple yet battle-tested and proven locking mechanism: the lock back. 
In all honesty, there isn't really much to say about this lock. It's strong, reliable and no nonsense.
When it comes to survival folding knives, you really can't beat a lock back, and Gerber has done a good job with this one. Nuff said.
…no, wait. No, there's one more thing to be said, I GUESS…
Gerber has done a great job with the lock disengagement on this one. 
A lot of lockbacks, especially the ones that are at or around this price point, have a very uncomfortable disengagement.
Normally, it takes way too much pressure on your thumb push down the lock bar to release the blade.
Releasing the blade on the Scout knife however, is like sticking a hot knife through butter. It's fantastic.
PERFORMANCE 
Coming as a surprise to no one, this is no high-end knife with some fancy premium steel.
Realistically, this is an above average performing knife at best.
It's all relative though… The performance is great for a knife at this price point. It nothing extraordinary, but it can hold its own.
Within reason of course, you can treat this thing like a work horse, and it will get the job done. Just keep in mind that this isn't a fixed blade knife.
When it comes to survival and nature performance, there is no substitution for a true fixed blade knife.
 

FAVORITE FEATURES

 
  Ergonomically friendly handle
  Easy lock disengagement
  Easy to spot if you drop in forest
  Sturdy and reliable build
 

LEAST FAVORITE FEATURES

 
Blade deployment could be a little smoother
 Fit and finish a little sloppy
🏁  
CONCLUSION  
Real sh*t, for an outdoors folding knife at this price, it's pretty hard to beat this.
Is it the greatest survival folder out there? No, of course not, but it is a great choice for someone who's just getting into pocket knives .
It's also good for anyone who just wants a reliable outdoors folder that won't break the bank.
I'm not going to lie, Gerber's had a couple of dud knives in the past year or two, but they've been uppin their game lately. This knife is proof of that.
Like I said earlier, when I got this knife, I was afraid that it was just a piece of junk endorsed by Bear Grylls.
I feared but it was just a shitty knife made popular by celebrity and expert marketing… I'm pleased to announce that my suspicions have been proven wrong.
Not only did Gerber make a knife that they can be proud of, but they also made a knife that I would be proud to give to my son when he becomes a Boy Scout.
---
NOTE: Please familiarize yourself with the appropriate state and local regulations by contacting your local police dept., legal counsel and/or attorney general's office. You, as the buyer, not pocketknifeninja.com, are responsible to understand your local, state, and federal laws before placing an order.
---
Knife addict & aficionado.
A pocket knife enthusiast by day and a writer by night
Author of blog Pocket Knife Ninja