Kershaw KURO Folding Pocket Knife Review
"
Blacker
than

Midnight
"
---
This post contains affiliate links, meaning, at no additional cost to you, I will earn compensation if you click through and make a purchase. Thank you! -Koda Moon
---
The word "kuro" is Japanese for black… a fitting name for such a stealthy tactical-style knife. You know what else were tactical and all-black? Yeah, that's right… Freaking Ninjas.
In feudal Japan, a ninja, or shinobi, was either a covert agent or mercenary. Of course, Ninja were no strangers when it came to matters of espionage, infiltration and assassination.
They were notorious for their all-black appearance as well as their unmistakable expert level ability to vanish into the shadows.
Today, I present to you the Kershaw Kuro, a stealthy all-black pocket knife reminiscent of a legendary ninja warrior.
 KNIFE SUMMARY
The Kershaw Kuro is an aggressively styled urban EDC folding knife with a refreshingly original design.
It has a snappy spring-assisted opening, an 8Cr13Mov steel tanto blade and a beautifully designed, black rose-style GFN handle.
 WHO IS THIS KNIFE FOR?
The Kuro is appropriate for anyone looking to buy an affordable yet practical EDC knife that could double as a tool of self defense in an emergency.
Ultimately, if you're trying to get the best bang for your buck in terms of blade steel, handle material, functionality and design, this knife could be right up your alley.
 VERDICT 
All things considered, at such a modest price point, the Kershaw Kuro serves as a good inexpensive EDC option that I have no problem recommending.
When you take a step back and look at the knife for what it is, you can't help but realize that the Kuro is just an all-around impressive value knife.
I mean, the rose handle design is beautiful, the tanto blade is effectively penetrative and durable, AND the flipper deployment is up to my high Kershaw speed standards.
Without a doubt, at this lower price point, there are very few tactical style EDC's that reach this level of finesse, style, design and practicality. Plus I just can't get over that sick black rose styled handle…
First Impression
The Kuro is an all-black beauty. It also so happens to be that black is my favorite color, so I was obviously a huge fan when I first laid eyes on this knife.
Kershaw gave this thing a bold style, one that immediately distinguishes itself from other pocket knives. It's not your run of the mill, bland, vanilla styled folder…
I don't know whether it's the tanto-style blade shape or the rose textured handle that does it, but there's just that off-center coolness factor when you whip it out. It feels like a knife that marches to the beat of its own drum.
In terms of size, this thing is perfect for EDC carry. It's not too big or too small, it's right in the middle of that goldilocks sweet spot.
Regarding daily carry, it fits in your pocket nicely and it isn't overbearing. It's not a feather-weight, but at 3.2 oz it's not gonna weigh you down much either.
It may just be an EDC, but its design, build and deployment speed would definitely cause it to qualify as an emergency tactical knife if it ever came down to it.
For me, the 2 most important qualities of an effective tactical knife are ease of use and speed. You want to be able to get that knife out of your pocket and into a defensive position as SOON AS POSSIBLE… especially in the case of, say, a robbery.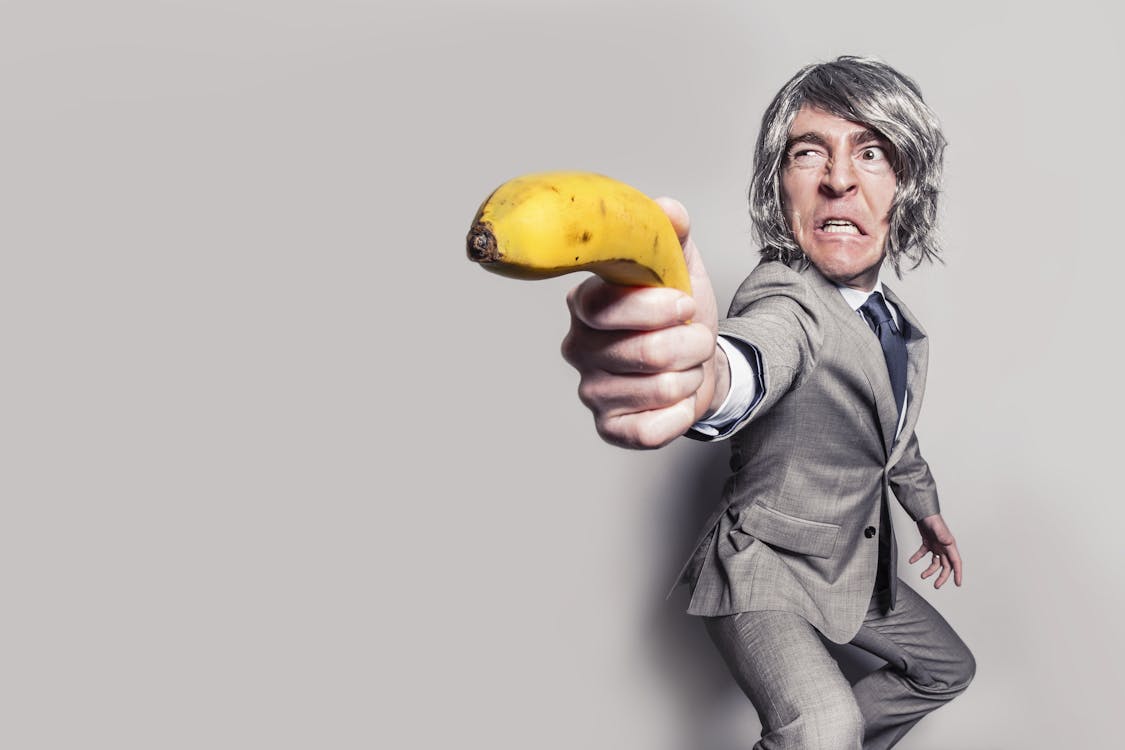 If you have a tactical knife that is hard to draw or deploy without fumbling around, then it's probably not a good idea to put your life in its hands.
When your life is on the line, time is unimaginably important. Wasting time trying to get your knife open could truly cost you your life…
That why I need a knife that opens EASILY, and this knife does that for me. It's a fast, straightforward and no-nonsense deployment, and for that reason alone, I would consider it tactically adept. 
Of course, I would never promote violence. It would only be the last resort in a life or death situation that left no other option. But in that dire case, you better be prepared.
Specs
Opening Mechanism: Flipper
Locking Mechanism: Liner lock
Steel: 8Cr13MoV
Handle: Glass-filled nylon
Blade length: 3.1 in. (7.9 cm)
Closed length: 4.1 in. (10.5 cm)
Open length: 7.25 in. (18.4 cm)
Weight: 3.2 oz (90.7 g)
Blade

 
The Kershaw Kuro wears a 3.1″ modified tanto blade with partial serrations, a sabre grind and a drop point blade shape.
The blade is teflon coated and is made from 8Cr13Mov steel. I have many knives that are made of 8Cr13Mov, and I can confidently say that it's a good budget steel.
I would say that 8Cr13Mov is the equivalent of 440B steel. Compared to AUS-8, however, 8Cr13Mov is a little more prone to corrosion and not quite as hard, but it's still a clear winner in terms of bang for your buck. 
I don't have a lot knives with sabre grinds, but I'm definitely a fan of them. 
Sabre grinds are nice because, just like flat grinds, they're easy to sharpen on a stone and tend to stay sharp longer than hollow grinds.
This knife has a straight edge and lacks any belly, so you can't slice as well as a drop-point knife with a big ol belly could. 
This blade shape is better suited not only for tactical use, but for utilitarian tasks as well, things like opening mail, cutting tape and piercing boxes. 

One feature of this blade I really dig is the thick tip. This thing has some piercing power behind it.
That's the reason tanto-shaped blades are seen so often on tactical knives- the piercing power! There's plenty of steel behind this badboy to provide a strong, solid spine that ensures the tip won't snap off. 
I was able to aggressively plunge this knife into a 2×4 repeatedly and wiggle it around without breaking off the tip.
Obviously I was doing that for testing purposes and wouldn't recommend anyone do that for fun. It's just good to know that in any self defense situation you have a durable knife with a strong spine.
There are moderately aggressive serrations on this blade and, unlike some other serrations, these are relatively easy to sharpen.
A lot of knife folk will tell you they don't care much for serrations on an EDC, but I guess I'm one of the exceptions. I don't mind them as long as they're not too difficult to sharpen.
Blade serrations might require a little extra effort to sharpen, but I know they're extremely useful when it comes to cutting through soft yet tough or fibrous materials like rope, 550 paracord or seat-belts.
If you do get a serrated knife, it would be wise to invest in a sharpener that has a serrations sharpener, one like the Work Sharp WSCMB Knife Sharpener. 
Handle

 
The Kershaw Kuro sports a pitch-black Ztytel handle with a reversible pocket clip and a lanyard hole.
I REALLY dig the handle on this knife. The texturing is drop dead gorgeous…
The texturing reminds me of a black rose, which would be my favorite kind of flower IF it existed. But it doesn't. *Sigh… Some mad scientist somewhere should really look into genetically engineering a black rose.
I was actually a bit skeptical of the composite handle when I first put my hands on this knife. It felt sort of cheap. However, as time went on, the more I came to appreciate glass-filled nylon (GFN) handles.
GFN, or Zytel, is super strong, resistant to bending, low maintenance, and basically indestructible.
It may not feel like the most expensive material, but man is it practical. In terms of bang for your buck, you cannot go wrong with GFN handles.
Pocket Clip
I was not a huge fan of the pocket clip when I first saw it. The first though that ran through my head was "….that's it? That's so freaking small…!" I was not impressed, to say the least.  I did, however, slightly warm up to it.
The clip makes your knife ride pretty deep, and it's sturdy for the most part. The clip carries tip up, tip down, left or right carry, so you can switch to your preferred clip placement.
Side note: It's easy to take a 4-way pocket clip for granted, so don't forget that having one on your knife is always a plus!
One nice thing about the clip is that it's small and doesn't protrude much. Some of the larger pocket clips create greater hotspots where the clip digs into your hand. This one doesn't bother me in the slightest.
One thing I love is that because it's so small, the clip doesn't draw a lot of attention to the knife. Sometimes less attention is better…
Nothing's worse than when people get scared around you because they see what looks like a giant knife sticking out of your pocket.
Opening/Closing
The Kuro is spring-assisted and uses a flipper-only deployment. There are no thumbstuds on the blade, so if you don't like flippers, this knife probably isn't for you. If you are a fan of flippers though, I promise the Kuro doesn't disappoint.
While it's not the smoothest or fastest deployment, it's still good for the price. It uses Kershaw's speedsafe opening technology, something I've been impressed by since I first started using Kershaw assisted-opening knives.
While I do like the spring on this knife, it's just not wicked fast like some other Kershaws I have. There also isn't as much snapping recoil as I would like.
I've found that a little wrist action goes a long way with this knife. Give it a little flick of the wrist and you'll get more of a snapping recoil effect.
I like my deployments to have a little extra punch! (The Schrade SCHA7 and the CRKT Ignitor are good examples of knives with a stronger *snap* upon deployment.)
One benefit to using Flippers is that they only require one hand to deploy, so that frees up your other hand. This is an essential feature of a tactical knife.

If you're trying to defend yourself, you can't waste time fiddling with the blade trying to get it open. In a life or death situation, you need that blade out IMMEDIATELY.

The Flipper is also ambidextrous, which means it is suitable for both left handed and right handed users.
Overall, the pivot on the Kuro makes for a relatively smooth rotation. Opening and closing this knife is easy and enjoyable. 
Ergonomics

 
I have big oafish hands, and the Kuro fits comfortably and securely in them. The handle's not too big or too small. It's like Goldilocks's pourage- it's juuuuust right. 
There aren't any major hot spots (surprisingly) and the handle shape allows for a solid grip in pretty much any hand position.
There isn't any jimping, except on the backspacer, but it's extremely mild. There is also a finger choil that allows for a tight, anti-slip grip, which is vital for any tactical style knife. 
In all honesty, if you're just going to be using this knife as your EDC, ergonomics just aren't that important in my opinion.
Small, light tasks don't need great ergonomics, but it's still nice to have a knife that won't cause your hand to cramp up. 
Performance

 
This is an urban-use kind of knife. It is not a bushcraft knife, survival knife or a hunting knife.
It was meant for EDC use or, in a more serious situation, tactical use; it was absolutely NOT meant for nature's harsh elements. 
I don't even like using this knife for feathersticks. There are simply far better folders out there for those kind of tasks. 
If you're the kind of guy who just wants a cool looking EDC to carry around for simple day to day tasks, this knife might be right up your alley.
It's great for cutting open boxes, zip ties, opening mail and other small/medium sized tasks.
As I said, this knife would serve adequately as a tactical folder in a desperate situation, but there are certainly better knives to buy if self-defense is the primary reason you're buying a knife.
Knives like the CRKT Fire Spark, SOG Flash 2, and Schrade SCHA4BG are much better knives for tactical/self-defense purposes.
Features I like 
+Fast Flipper Deployment
+GORGEOUS All-black 'rose' style
+Good Edge Retention
Features I don't like
-Pocket clip is tight out of the box, had to be loosened
-GFN feels kind of cheap if you're not used to it
Conclusion 
I've been using this badboy for a while now, and I've gotten to know it well. You could even say we've become pretty close friends.
For the price, it's a great knife. The steel is super easy to shapen, the knife looks awesome and the size is ideal for EDC carry if you live in an urban setting.
Kershaw has been on a roll with these affordable yet effective folding knives they've been releasing. 
This knife has been of great use to me, and although I've beat it up pretty bad, I've always had confident in it when performing utilitarian purposes at home and at work.
I also, however, have enough confidence in it as a tool of self defense in an emergency situation. Hopefully a day will never come when you have to defend yourself or others, but it's better to be prepared than not. 
---
NOTE: Please familiarize yourself with the appropriate state and local regulations by contacting your local police dept., legal counsel and/or attorney general's office. You, as the buyer, not pocketknifeninja.com, are responsible to understand your local, state, and federal laws before placing an order.
Knife addict & aficionado.
A pocket knife enthusiast by day and a writer by night
Author of blog Pocket Knife Ninja