Kershaw Shuffle Pocket Knife REVIEW
"Petite… Yet

Badass.

" 
---
*This post contains affiliate links, meaning, at no additional cost to you, I will earn compensation if you click through and make a purchase. Thank you! -Koda Moon
---
I like small pocket knives… but I like weird and small pockets even more!
It should come as no surprise then that I'm a fanboy of the Kershaw Shuffle…
Frankly, it's kind of an oddball of a knife… It's just like skittles candy… it comes in a crap load of different colors!
…I mean, who isn't a fan of a little delicious rainbow variety!?
  SUMMARY 
Overall, the Kershaw Shuffle is a versatile and affordable little EDC pocket knife. 
Let's face it… this thing is cute as a button. It's small, non-threatening and surprisingly practical…
Another cool random thing about the Shuffle? It has its own screwdriver and bottle opener!
That's precisely why I love having this compact and discreet blade on me at shindigs and parties…
Take last night for instance: All these pineapples I partied with were so happy I had my Shuffle knife on me to pop open their drinks with…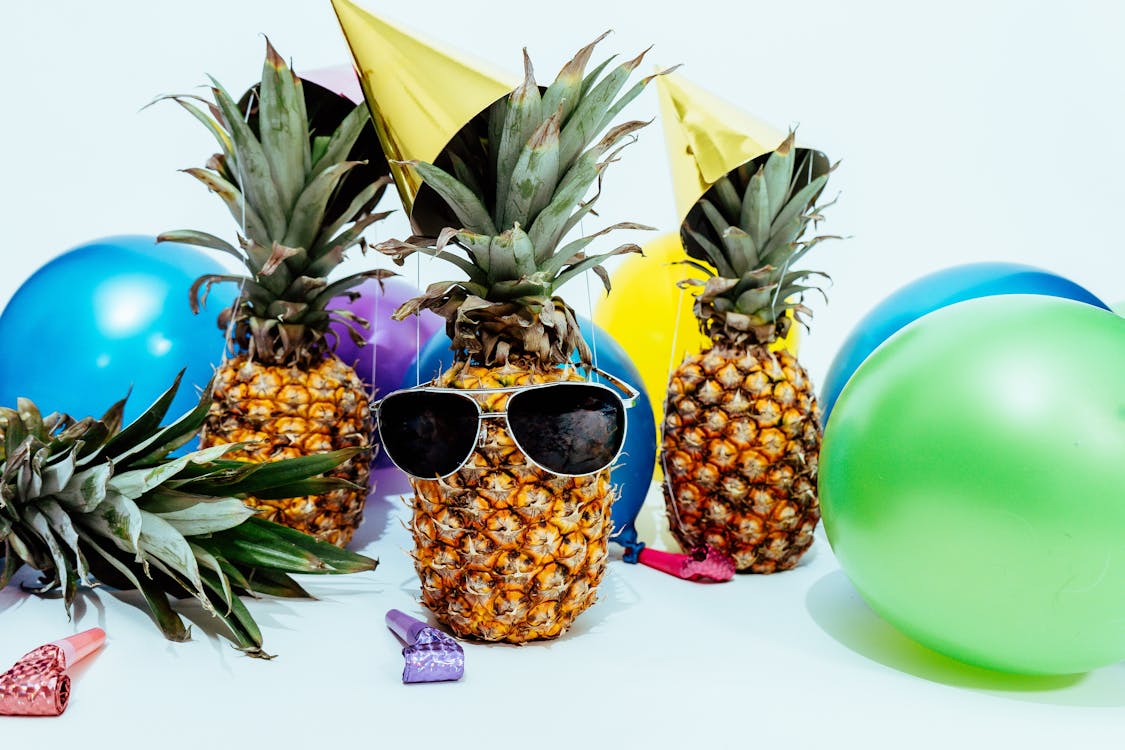 At least, they were happy… that is, until I used my knife to slice 'em open and gobble them up.
Yum…. pineapple.
ANWAYS, I have a massive collection of pocket knives of all shapes and sizes…
Funny enough, my Shuffle somehow still manages to stand out dramatically among them.
The urban design is a breath of fresh air, and I'd be lying if I said the simplicity of it all isn't appealing.
I've been a Kershaw fan for a long time now, yet they never fail to surprise me.
Somehow, Kershaw continues to come up with all these exciting, quirky and innovative knife designs. Sweet job, Kershaw!
  WHO IT'S FOR?
On the most basic level, the shuffle is well suited for anyone who wants a small EDC with a big personality. 
This EDC folder is reliable, stylish and easy to use, as well as easy to carry inconspicuously while riding deep in the pocket.
Of course, this knife has some minor flaws, as does any knife… 
The Shuffle's flaws, however, are simply outweighed and outnumbered by the positive attributes of this knife.
There is simply too much good to outweigh the bad. 
So, all things considered, the Shuffle's appropriate for the following people: 
1) Those who aren't looking to spend a lot of money
2) Those who enjoy compact EDC's
3) Those who don't mind GFN handles
4) Those who like some multi-purpose function in their knives.
  VERDICT 
At the end of the day, I can't help but be impressed by the shuffle…
It's well-built, practical to use, multi-purpose and downright pleasant to look at.

After having EDC'd this knife for some time, I've definitely put it through a lot of trauma.
I actually have 3 different shuffles and, surprisingly, they made it out alive and are still fully intact. It's a durable knife for sure.
**Applause**

 
For the low price point of this knife though, the value this thing brings to the table is killer.
Here's the deal: there are a lot of amazing knives out there at this price point, I'm not gonna lie…
BUT EVEN SO, this knife still earned its rightful place among them, and it even manages to stand out and shine.
This is an excellent, reliable, and stylish EDC for those on a tighter budget.
1st IMPRESSION 
If you're a knife person, you're probably going to raise an eyebrow when you first see this knife up close and in person.
If I had to guess, it probably looks quite unlike most other knives you're used to handling. In truth, it's kind of a funny looking knife…
I guess it's an acquired taste, but it's definitely grown on me over time. 
As for the overall fit and finish on this knife, it was definitely well executed.
Blade centering was spot on, and the factory edges were sharp enough.
SPECS
Blade Steel: 8Cr13MoV, bead-blasted finish
Handle: Glass-filled nylon, K-Texture™ grip
Blade Length: 2.4 in. (6 cm)
Closed Length: 3.25 in. (8.3 cm)
Overall Length: 5.75 in. (14.6 cm)
Weight: 2.8 oz. (79.4 g)
Extras: Bottle opener, flat head screwdriver, lanyard hole
Lock: Inset liner lock
Pocket Clip: Reversible Pocketclip (left/right, tip-up)
🗡  
BLADE
The Shuffle sports an edgy (yet short) blackwash drop-point blade.
It has a high hollow grind, a swedge and thumbstuds…
This blade shape is somewhat unique, in that it's much shorter and more rounded than most other blade shapes.
The reason I'm such a big fan of this blade, though, is that you can get so much leverage on your cuts.
In other words, you can really dig in with this blade. The grip you can get on the handle is a powerful one.
The power of leverage is phenomenal, and having a knife that can take advantage of leverage is extremely useful.
Also, a short blade like this gives you much more control over your cuts…
It might not sound that remarkable, but many of my bigger EDCs are pretty severely limited in their ability to maneuver difficult or awkward cuts…
Again, the shortened blade on the Shuffle lets it handle awkwardly angled cuts like a pro. 
Aside from accessibility though, general cutting performance was average and was right around my expectations for this knife.
In terms of steel used, the blade is made from 8Cr13Mov. No surprise here, as that's a steel Kershaw loves to use…
Is it a super steel? No. It's not even a premium steel. That being said, 8Cr13Mov is still an amazing steel for the money.
In other words, 8Cr13Mov is a value steel, and actually a good one at that.
It holds an edge long enough, sharpens super easily and is quite corrosion resistant…
All things considered, it's pretty much the best kind of steel you can get for the money.
I have several Kershaws (which I love) that use this very same steel. It hasn't disappointed.
  HANDLE
The Shuffle's Handle is made from glass filled nylon, or GFN.
A gross oversimplification of GFN would be to say that it's strong yet ugly…
GFN handles are SUPER tough, versatile and good for hard, heavy-duty use… YET, they can feel cheap, tacky and plasticky.
I've found that's not really the case with this handle, however.
It isn't cheap feeling like some other GFN handles I have. You still feel like you have some substance with this handle.
Sure, the scales look a little tacky with all the K's imprinted into the Shuffle's handle texture…
On the other hand, all that flash is part of the appeal. It boasts an edgy, urban appeal, and  with confidence. That's pretty awesome in my opinion.
It's like this knife's message to use is this: "Why always be the same? Why not spice things up and them differently, and with more excitement??" 
 

 POCKET CLIP
Kershaw did an okay job with the pocket clip. Just ok. On one hand, it's strong, sturdy and just flexible enough.
On the other hand, it is a little too tight and doesn't really allow for such a smooth insertion or removal.
Also, the pocket clip IS reversible, so that's a nice feature.
I think every single knife coming out should at LEAST have a reversible pocket clip… #NoLeftiesLeftBehind
One other aspect I like is how deep this knife rides in the pocket.
The only part that isn't concealed is the small screwdriver end of the handle.
DEPLOYMENT
This isn't a fancy deploying knife. Let's just get that out of the way right now.
The Shuffle opens using dual thumbstuds, and there is no assisted opening, so it's 100% manual.
I found that the deployment was a little rough at first, but it became a lot smoother after breaking it in a bit.
  

ERGONOMICS
The ergos are good but limited. In other words, this handle is optimized perfectly for a single hand position.
The finger grooves are placed perfectly and even leave a little bit of room for big sausage fingers like mine.
If you're someone who likes to choke up, you're in luck. This handle is made for that. 
The ricasso is shaped perfectly to create an extra finger groove for you to choke up on and get a super solid grip.
LOCK  
The lock is a simple liner lock. It provides a solid lockup with no blade play. That's always impressive at this price point.
One potential negative of this lock is the fact that the GFN scales cover the locking liner and make accessibility a little harder.
The cut out for the lock should have been made a little bigger.
That would have made disengaging the lock with your thumb a little easier…
This isn't a dealbreaker, though. I'm still able to access the lock without having to use two fingers (like some of my other knives.) So I can let it slide…
PERFORMANCE
This blade has a nice big ol fat belly, so it came as no surprise that it makes for an awesome slicer.
As I've said before, the short length of blade is advantageous when it comes to making precision cuts- kind of like a scalpel is good for surgery. 
It's kind of random, but I love whittling animals out of bars of soap, and this is one of my favorites knives to do that with.
The short blade really gives you that extra bit of control you need to get next-level precision in your cuts.
While the Shuffle's not a beater,
it's no brittle toothpick either.
I don't hesitate to take it out with me on a long hike. I'll carve sticks with it, do a little knife throwing… I'm not afraid to be a little rough on this knife.
 

FAVORITE FEATURES

 
  Durable Textured G-10 Handles
  Multipurpose (Bottle Opener + Screwdriver)
  Comes in Lots of Colors
  Effective Slicer (A Big Belly Blade) 
 

LEAST FAVORITE FEATURES

 
Bottle opener works, but isn't the most effective  
Designated finger choils only allow for a limited number of hand positions 
MY TOP 3 ALTERNATIVES  
If you're still unsure about the Shuffle, or if it's CLOSE to what you want but not exactly what you want, don't worry.
There are a lot of great aspects of this blade, but obviously, just because I like it doesn't mean you will…
In such a case, here are my 3 alternatives to the Kershaw Shuffle:
1)

The CRKT Squid 
Small, powerful and reliable… When it comes to sheer quality, the Squid is one of the best pocket knives at  this price point.
(Check out my review for the CRKT Squid here.)
2)

The CRKT Drifter 
Minimalistic with a superb design… This knife spices up your EDC rotation without breaking the bank.
(Check out my review for the CRKT Squid here.)
3)

The Gerber Air Ranger 
Classic and rugged… There's a reason the Air Ranger because a famous folding knife.
(Check out my review for the CRKT Squid here.)
🏁  
CONCLUSION  
The Kershaw Shuffle is kind of a loner, meaning that it's a knife in its own little specialized category…
It slices things (and well), it screws things in, and it pops open bottles adequately enough.
In other words,  it's a jack of all trades type of knife.

I'm cannot tell a lie.
I'm not going to look you straight in the face and tell you this is the best knife I've ever used for this price point… I won't.
I WILL, however, tell you the truth….
The Shuffle is truly one of a kind, and that is why it's such a famous knife.
It has its own uncopyable design as well as unmistakable edgy style…
In simpler words? It's unique… and that actually means something nowadays in the golden age of mass production.
I find there's a lot to love about the Shuffle if you're just willing to look…
---
NOTE: Please familiarize yourself with the appropriate state and local regulations by contacting your local police dept., legal counsel and/or attorney general's office. You, as the buyer, not pocketknifeninja.com, are responsible to understand your local, state, and federal laws before placing an order.
---
Knife addict & aficionado.
A pocket knife enthusiast by day and a writer by night
Author of blog Pocket Knife Ninja